How to Generate a Privacy Policy for Your Mobile App
Privacy policies are critical for publishing mobile apps, and you are legally required to have one. If you haven't read our previous article, "Why a Privacy Policy Is So Important for Your Mobile App", take a moment to review it to get a better understanding of why you need one and what to include.
The next step in the process is to actually generate a privacy policy that includes all the essential details to comply with international law.
Generating an adequate privacy policy on your app takes time and effort. However, you can simplify the process by using the right tools — as we did!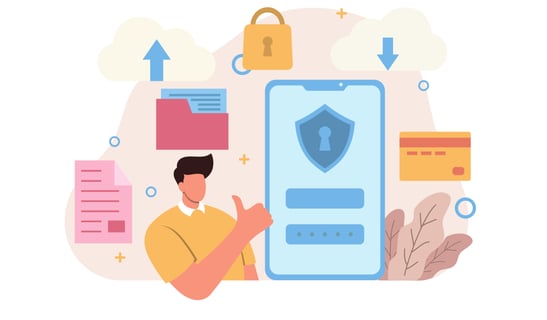 Generate a Privacy Policy Automatically
When we needed a privacy policy for Thunkable, we headed to Termly for help. Their privacy policy generator is a fast and easy way to create a policy that complies with GDPR, CCPA, and COPPA.
You can even customize your policy based on the functions included in your app so nothing gets left out. It was really straightforward to use, and the resulting notices were easy to host. Termly can even update your privacy policy automatically. If you want to save yourself a headache and precious time, then you should definitely check them out.
Use a Privacy Policy Template
That being said, if you would prefer something more customized, templates are a great place to start.
Using a template can ensure you're not leaving out any critical details. You can also use templates to discover the best way to phrase specific clauses and notices to remain in compliance with data privacy laws.
Termly also offers an awesome privacy policy template for mobile apps you can use to write your app's policy. You should only take this approach if you're already familiar with how privacy policies work and just need a place to start.
Hosting Your Privacy Policy
Once you've created your privacy policy, you need to host it somewhere.
It's not considered good practice to store your privacy policy in your app. Users are supposed to have access to your privacy policy before downloading or engaging with any digital services you provide.
That means you need to host the policy on a website. This is another step that is made easier by Termly — and Thunkable.
Once you've generated your privacy policy with Termly, you don't need to create a website to host it. Instead, you can embed a snippet from Termly in a Thunkable web app as demonstrated in this tutorial.
A Thunkable web app gives you everything you need to link your privacy policy within any app download portal. For example, you'll have a web address to use in the metadata of Apple's App Store or to link within the description of your Google Play Store listing.
In combination, Thunkable and Termly are a powerful pair. Thunkable makes it especially easy for you to host your Termly generated privacy policy and comply with international laws.
Create and Host Your App's Privacy Policy Today
Digital privacy is a hot topic, especially when it comes to apps. As a result, governments worldwide are cracking down on acts that may violate users' rights to private information. You can make sure your mobile app is on the right side of the law by developing a comprehensive privacy policy.
Getting Started
Whether you've already released your no code mobile app (built on Thunkable, we hope!) or it's still in development, there's no time like the present to create your privacy policy. Tools like Termly make generating a privacy policy easy and can safeguard your mobile app without having to spend thousands in legal fees. Their privacy policy template for mobile apps makes things easy and seamlessly integrates with Thunkable. Termly and Thunkable make it much easier for you to handle the process from start to finish.