How To Implement an App Monetization Strategy
This is the third installment of our mobile app monetization strategies and implementation guide. You are one step closer to successfully preparing your app to generate revenue. If you missed our last two blogs on getting started with monetization and the top three revenue strategies for your app, we highly recommend you give them a look!
Data.ai's latest State of Mobile 2023 report shows consumers spend approximately a third of their waking hours on their phones. That's about five hours of an individual user's total attention app owners can access. Additionally, in their report, data.ai is predicting "mobile will take over share of advertising wallet as more time than ever before is spent in apps, with total hours on track to surpass 4 trillion in 2022 on Android phones alone." In 2023, ad spend is set to hit $362 billion.
Businesses are focusing on running ads within mobile apps, and app developers can benefit from this new transition. Keep reading to find out how you can prepare your app for ad revenue generation.
Preparing Your Mobile App for Revenue Generation
Google's AdMob is the easiest way to generate revenue from your app. If you are curious to learn more about how AdMob works, take a look at this video, which details the process and what analytics you will have access to from running ads within your app.
With a Thunkable-built app, it's easy to add AdMob to your app in a few simple steps. First, Creators must have an AdSense or Google Play developer account and join Thunkable's multiple customer management network (MCM) to be approved for integrating AdMob. Approval is done by ensuring AdMob blocks are correctly placed in your app, and placement for banners, ads, and interstitials follow Google's guidelines. This is a crucial step because we want to ensure that ads will not compromise your audience's experience within your app. After approval, you can make your app available to the market and prepare for revenue generation.
App Monetization Best Practices
Not to sound like a broken record, but we will continue shouting from the rooftops that seamless integration of ads into your app's user flow is crucial. Your primary goal should be to ensure ads are not hindering your audience's experience and that it work seamlessly with the user interface. A tip we often give Creators is that the integration of AdMob is to focus on the user journey first and monetization second. Think about the last time you were served a commercial or advertisement unannounced. It could ruin your whole experience. On the other hand, if laced in properly, it could be enjoyable and pique your users' interest.
Think about how you worked to make your no code mobile app enticing and engaging; that's how you need to approach adding ads into your app. If you keep users happy and intrigued, they will want to use your app more, resulting in high revenues. Let's look at some Thunkable-built apps that do great ad placement.
Banner Ads with WannaDraw
WannaDraw, an app that generates ideas for artists to draw characters in funny settings, was built by social media influencer Audrey Hopkins. WannaDraw has more than one million downloads on the Google Play store and is widely shared on social media. Within this no code mobile app, you can see the banner ads at the bottom of the screen. For a user of the app, this is a perfect use of in-app ads because it is not obstructing critical aspects of the app. Instead, users are focused on the provided prompts, and the ads are served up adjacent to the experience. The app offers users a great experience while effectively delivering ads without hindering the users.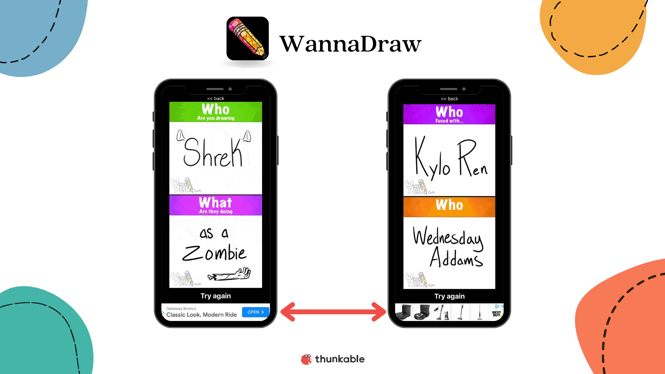 Video Ads with Football Betting Tips
Football Betting Tips was created by a professional sports tipster who posts ten football predictions daily, max bet, and combo tickets. This no code mobile app has more than ten thousand reviews with a five-star rating on the Google Play Store. Understanding the delicate balance between serving ads and integrating them seamlessly within your app is demonstrated within Football Betting Tips. This app developer placed ads within their experience between screens. Before serving the ad, a pop-up appears, giving the user an option to "unlock" tips by first watching a video ad. Putting the power in the user's hand to view an advertisement is an effective way of not overwhelming or frustrating users. To unlock the content, users must watch the video; this is an intelligent way to protect content behind a monetization wall.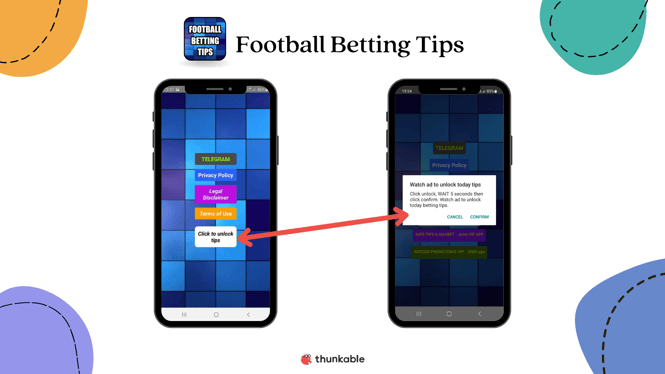 Generate App Revenue with AdMob and Thunkable
Get started on Thunkable, the best no code app builder, today and take the first step towards building a fantastic product with monetization potential.
Seeking more custom solutions for your mobile app development needs? Book a 15-minute assessment with our team so we can get you on the right path.