Thunkable Feature Spotlight: Bluetooth Capabilities for Your Mobile App
Imagine building an app that can interact with external devices with smart devices, all without requiring extensive code.
Bluetooth connectivity has been around for about three decades, and it is so commonplace most people underestimate its powerful simplicity and ease of use. The most common example of Bluetooth connectivity is sitting in your pocket or is currently plugged into your ears.
But what does this have to do with the app you're trying to build?
Whether you're just starting your mobile app development journey or are an experienced professional, understanding Bluetooth capabilities in no code mobile app development can open up a world of opportunities for creating dynamic, interactive, and user-friendly apps.
In this article, we'll dive into what constitutes Bluetooth connectivity and how various industries are using it to provide innovative solutions in their field. (It's always good to do a little market research before developing your app; the more information you gather, the better your app will be!)
First, let's dive into the basics.
How Does Bluetooth Connectivity Work?
The average person uses Bluetooth connectivity while listening to music on their headphones or while controlling a smart thermostat from a mobile app. In our highly connected world, smart devices provide simplicity and accessibility all from one centralized device.
But how does it really work?
A smart device like a fitness tracker or home assistant will broadcast a universally unique identifier (UUID) which can be scanned and paired with a mobile app. The UUID allows the app and device to communicate with each other and transmit information.
Bluetooth low energy (BLE) technology works in the same way but has several benefits over classic Bluetooth:
BLE utilizes less power to broadcast and receive data, making it an ideal option for mobile apps.

BLE is widely supported by smart devices. This means an app developer can leverage a cross-platform capability to provide seamless communication between various devices.

BLE can greatly enhance the user experience of an app by enabling new functionalities which will help differentiate an app from its competitors.
As a result of BLE's efficiencies, various industries are utilizing Bluetooth-connected devices and capabilities in a number of ways. From the restaurant owner monitoring his meat refrigerators on a simple app to the medical staff monitoring heart rates on a mobile device, BLE functionality can be optimized for any need.
And what better way to see what is possible than to learn from who is already excelling with BLE?
Let's take a closer look at how different industry use cases harness the power of BLE's capabilities to enhance products, services, and user experiences from their no code mobile app.
Top Use Cases for How Bluetooth Features Can Be Utilized in No Code Mobile App Development
From healthcare to retail, automotive to smart homes, BLE features are being leveraged in various sectors to enhance connectivity, communication, and functionality between smart devices.
Not only is BLE widely used, but it is also simple to integrate into mobile apps — especially with drag and drop app builder platforms. But more about that later!
Now, let's see how BLE features integrated into apps in these fields can unlock new possibilities and create seamless, wireless-enabled solutions for diverse use cases.
Health and Fitness
Health and fitness is a booming industry. With the intersection of technology and health, mobile apps are taking health and fitness to a new level by tapping into the native capabilities of smartphones, tablets, wearable devices, and more. Pairing a personal smart device or smart appliance to a no code mobile app can level up the user experience in more ways than one.
Fitness trackers use Bluetooth low energy technology to track the user's health statistics. For example, the Thunkable-built app Bangle with more than 10,000 downloads, connects to the Bangle.js smartwatch. The app tracks your heart rate, allows you to receive health alerts, messages, and call notifications from your Android phone on your Bangle.js smartwatch.
If you plan to build an app that pairs with a fitness tracker, you can easily pair the device to the app. To take your app development to the next level, you can even add gamification qualities like earning badges or points to enhance your health and fitness app.
Smart Home Utilities
In-home smart devices are nothing new. The dominant company in this space is arguably Amazon's Alexa, connecting to devices such as light bulbs, home security systems, and even appliances. With a BLE-enabled app, you can equip your users with monitoring and control capabilities for climate control, entertainment devices, security, and lighting.
One entrepreneur, Blake Martin, turned to Thunkable to take BLE capabilities to a whole new level, pairing lights to his app to enhance gameplay and build a business. With the app, you can control not only the lighting but use it to keep score, notify who's turn it is, and even create a more engaging and entertaining gameplay experience for spectators. Billight was created with a drag and drop app builder to enhance the game of pool, and through BLE connectivity Martin was able to build a business.
Security and Operations
Businesses are making extra efforts to ensure safety and operational efficiencies for their employees. Some organizations are utilizing secure and safe contact tracing with wireless devices. Such contact tracing received an uptick during the pandemic when contact tracing was essential to containing the spread of COVID and alerting individuals if they were in spaces close to a positive case.
Otto.AI is an end-to-end app that was created and shared to our public gallery. This app creates a safe and simple-to-use home automation system that protects an individual's home. The app acts as a universal remote control for connected devices within the home, including lights, music, security systems, and more. Create your own BLE enable app by remixing the Otto.AI project!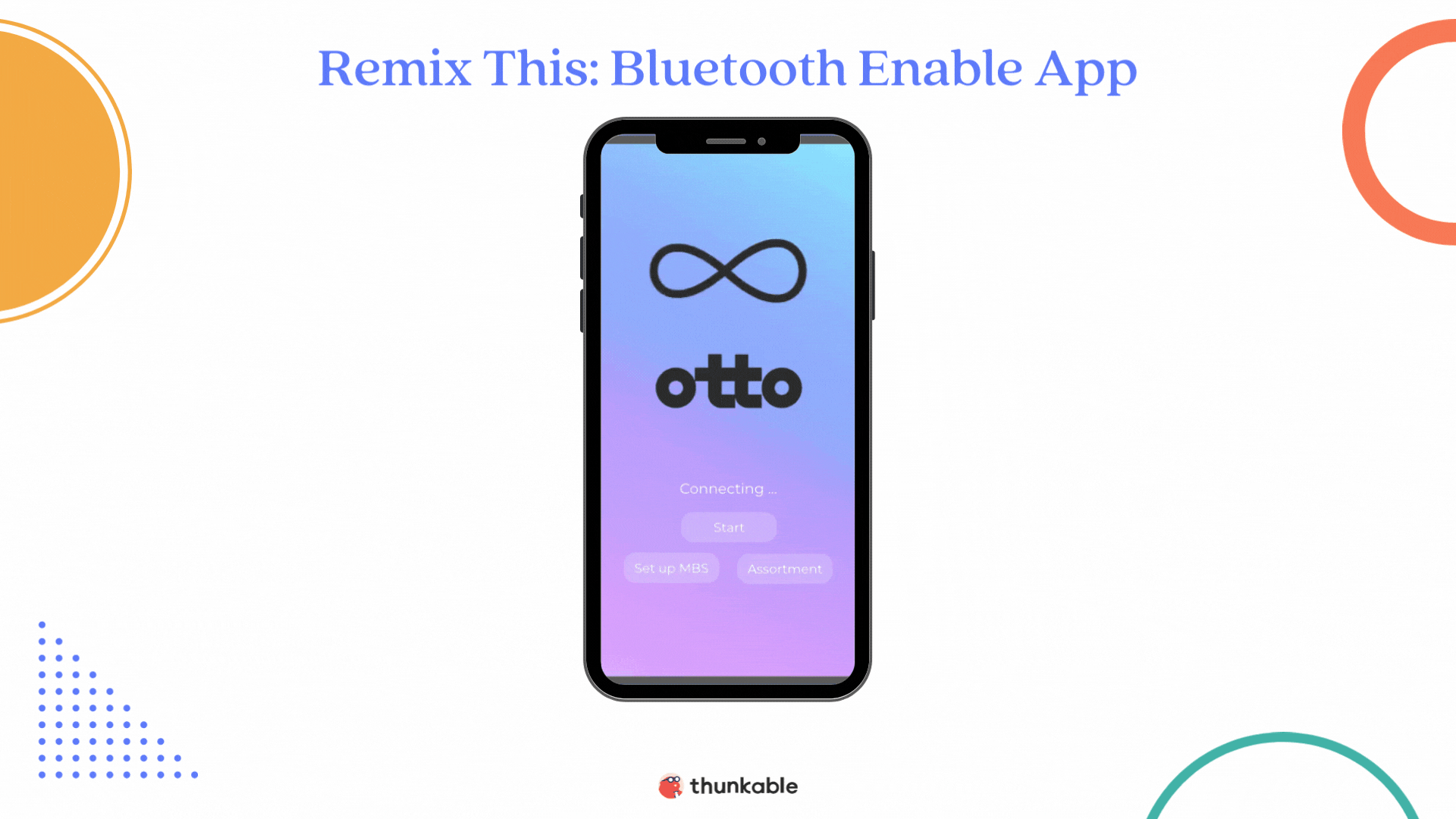 Incorporate Bluetooth Capabilities in Your App Development
From home automation systems to fitness trackers, Bluetooth technology is making our lives easier and more efficient than ever before. With the best no code app builder's BLE features, developers can create powerful apps that utilize this same technology with ease.
Start building with BLE today on Thunkable and unlock the potential of creating wireless-enabled apps with ease! Get started now and embark on a journey of innovation and transformation with BLE features on Thunkable.