Thunkable Helps French High School Students Win Regional Science Award
Seventeen-year-old Camille Hacquet had an idea. What if you could bring cycling, technology, and insurance together to incentivize people to ride a bike instead of driving a car? His solution — an app called Bikee — won the prize for the best scientific approach at the 2022 Engineering Science Olympiad put on by the Union of Technical and Industrial Science Teachers (UPSTI) with the support of the Ministry of National Education. Hacquet and his team competed against 22 other teams and won their regional competition before advancing on to nationals.
Meet Bikee, the No Code Mobile App Built on Thunkable
Bikee is a performance tracker app with bluetooth that syncs with the device Hacquet's team 3D modeled and built. You log into the app and the device, and the app tracks your kilometers. The GPS data of your ride is recorded (as well as distance traveled) and transmitted to the app. Then, the data is transferred to a health insurance company. The more you use Bikee and ride, the more money you save on insurance.
Building Bikee
When it was time to build their app, Hacquet didn't know where to start so he, like most people, turned to Google. "We found [Thunkable] by [searching app development on] Google. We did not have a lot of time to create a mobile app, and by typing on Google, 'No code mobile builder experience', or something like that, we found Thunkable," said Hacquet.
The team reached out to Thunkable, were set up with an education discount code, and soon started building their app. From start to finish, they spent only four days building the Bikee mobile app.
Hacquet's team was most excited about Thunkable's API compatibility. "Being able to send an API request [was most helpful]," said Hacquet. "If we have only tools to put basic widgets like buttons or text areas, we create, like, a static app. Having the possibility to use API is something really cool because it permits us to connect the app to the backend we built, and we create a dynamic app."
The Results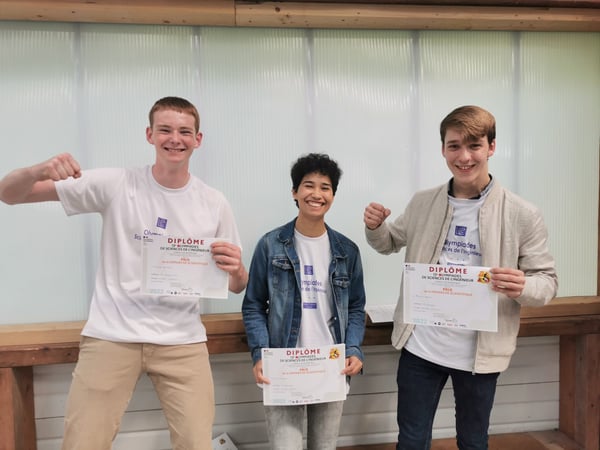 (Source)
Hacquet and his team won a regional prize for best scientific approach and advanced to nationals but, unfortunately, did not win the top prize. Of his regional win Hacquet said, "How we made [the project], the [judges] said it was well documented because we did it step by step and described it."
What's next for Hacquet? The recent high school graduate plans to continue his education by studying information technology (IT) in France.
Build Your Own No Code Mobile App Using Thunkable
The Thunkable team is proud of Camille Hacquet and his incredible idea, Bikee. Thunkable's core belief is that great ideas are everywhere, and technology shouldn't be a barrier to bring these ideas to life. Camille and Bikee are living proof of that belief.
If you or your educational organization are interested in using Thunkable as one of your EdTech tools, please reach out to us. We can't wait to see what you'll build!